Help the Yardbirds record their new album:
from:
https://www.pledgemusic.com/projects/theyardbirds-newalbum
The Yardbirds are an English rock band formed in London in 1963 that had a string of hits during the mid-1960s, including "For Your Love", "Heart Full of Soul", "Shapes of Things" and "Over Under Sideways Down". The group launched the careers of guitarists Eric Clapton, Jimmy Page and Jeff Beck, all of whom ranked in the top five of Rolling Stone magazine's list of 100 greatest guitarists.
That was then…. and this is now!
It's no surprise that rock 'n' roll Hall of Fame and Yardbirds' founding member Jim McCarty is quoted as saying, pointing to this current Yardbirds' band as being, "the best and most authentic lineup since the originals". With seasoned professional musicians like Johnny A., Kenny Aaronson, Myke Scavone and long time Yardbird associate John Idan, it's no wonder.
These guys were steeped and bred on British invasion music and highly influenced by the Yardbirds. And though they share a love of the band and what it did for them in their wonder years as growing musicians, they have no interest in being a tribute band and living for the past. They do however want to pay respect to what went before them while bringing the band into the future to protect the legacy which is the Yardbirds.
But they need your help in doing so. This is your opportunity to help preserve one of the founding most influential bands in rock history.
Follow this link and make a pledge to this campaign and help make this studio album of all new original Yardbirds' material a reality.
Please pledge now and help spread the word about this exciting Yardbirds' project.
About the yet unnamed Yardbirds' album:
This will be a totally new recording of original songs with a couple of carefully selected covers done in the tradition of the how the Yardbirds deconstructed, re-constructed and resurrected, old blues songs to bring them to a new wider audience.
About the recording:
The album will be recorded analog in a "state of the art" recording facility produced by legendary record producer Jack Douglas. (John Lennon, Aerosmith, Cheap Trick, Alice Cooper and many others.)
Please bookmark this page and check back often as we will be providing new and exciting content as the album takes shape.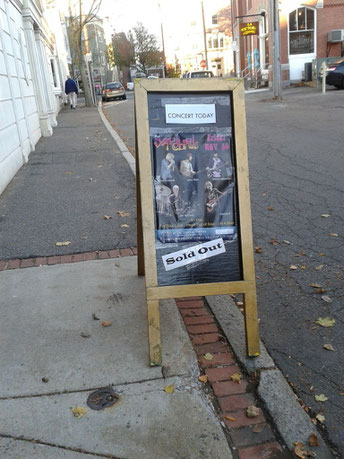 The last two weeks really have been a gas. Travelling from the east coast of the states to the west and back again. Phoenix and Tahoe seem like a dream now. Great shows and crowds all along the way.
Three in the vicinity of Los Angeles with the couch house and the Canyon Club being a complete knock out on so many levels. So many wonderful people. Seeing my dear old friend Rouel Thomason gave me such a joyous feeling deep down as have so many of the places bringing back great... memories and feelings in myself.
Last night in Beverly Massachusetts was particularly great show. A packed house in a beautiful turn of the century theatre with great acoustics ...fantastic vibe with the audience . It was great!
The Yardbirds are heading up to New Hampshire today then back to Massachusetts for what will be the last show of the tour.
Jim has been drumming up a storm. Johnny A. is brilliant Kenny Aaronson totally on the money and Myke Scavone truly playing some great harmonica and nice touches throughout.
I'm feeling strong, sounding good and of course will be rockin on with all I've got!
Peace to you all
John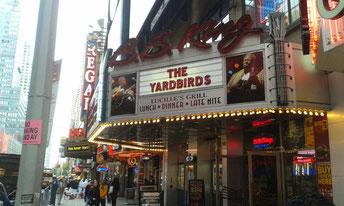 Great to be back at B.B. King's in NYC. Crazy to think it was 10 years ago we recorded a live album here.
Of course you cant help thinking about the great man B.B. King himself and that he no longer is with us. ... we wish you well Mr. King!

The sun is rising on a new day. And another journey begins. It's been a hectic and interesting time.
Just recently back from the UK playing with the Natural Blues Band. Great gig by the way fellas! Spending time with dear friends and my wonderful son.
Second phase of the trip was a three rehearsal with Ric Lee. ...
Brilliant drummer and co founder of Ten Years After . Went well and a great opportunity to revisit some of England's most beautiful countryside.
Next day back down near my old neck of the woods in Surrey for a Yardbirds get together to work out a few details for the Twickenham show the following night. Wonderful time all around.
Looking forward to more...
Only a short time back at home with Franziska and Jeddy. ...hmm..
and now Setting out on the road for Sweden to play with Ric Lee's Natural Born Swingers .

Back Sunday then straight off to my homeland. ..with The Yardbirds. ...
Peace,
John

John Idan's return to the Yardbirds doesn't simply reunite the group with their Birdland-era lead singer; it completes a circle for Idan, who still vividly remembers the first band he ever heard play the blues.
"The Yardbirds, funnily enough," Idan told Early Blues. "My older brothers were listening to heavy metal music, Deep Purple, Steppenwolf and then we got a Yardbirds album, and I was like: 'Wow, this is like … more primitive, heavy, but primitive in its approach.' Then, of course, I discovered all those guitar players, and John Mayall's records pointed me to the black players – because they'd always say who the writers were, Otis Rush, Albert King – and then I'd buy their albums."
Idan, originally with the Yardbirds from 1992-2009, co-wrote the album-closing tribute to Yardbirds co-founder Keith Relf on 2003's guest-packed Birdland. He'd earlier worked with Yardbirds stalwart Jim McCarty's solo band, as well as original Yardbirds guitarist Top Topham. Idan returns to a lineup that finds McCarty joined by singer/harpist Myke Scavone, bassist Kenny Aaronson and guitarist Earl Slick, who had a similar formative passion for the band.
John Idan also appeared on 2006's Live at B.B. King's with the Yardbirds. He released his debut solo album, called The Folly, two years later. He's now set to rejoin the Yardbirds for a series of confirmed dates this fall. His long history with the band will, no doubt, serve Idan well.
"Back in my early teens, I learned every lick I could find off Yardbirds records," John Idan told Blues.gr. "My high school group performed a lot of their music in our set. I collected rare Yardbirds records and figured out some interesting arrangements and we incorporated these into the group. … So, when I eventually started to play with Top and Jim McCarty, I had a pretty solid knowledge of their music and the kind of blues that we would play together."

Source: http://somethingelsereviews.com/2015/06/05/yardbirds-john-idan-reunion/
Unfortunately, due to health concerns and extenuating circumstances, The Yardbirds' Spring 2015 tour dates have been postponed. We will inform you as soon as the re-scheduled dates are confirmed.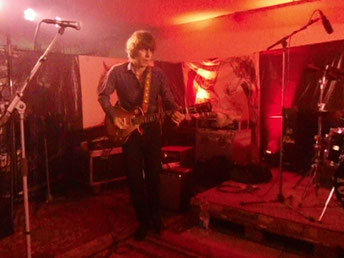 Great gig last Friday in Apolda at the BluesFasching with the great Tony Natale and Jörg Feser. A rocking good time with and audience full of freaks, ghouls and goblins - it's carneval after all.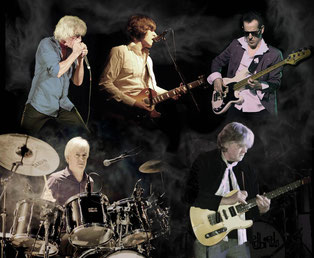 Late last year I did a few Yardbirds shows, standing in for members who couldn't make gigs, one in France on guitar/lead vocals and two in Finland playing bass. Of course I was very happy to help out and play with my old band mates. Following the recent turn of events in the current line-up of the Yardbirds I was asked by Jim McCarty if I would re-join the group.
I am now pleased to say that I will be re-joining the band on lead guitar and lead vocals. Yardbird people will of course know me as the bassist and lead vocalist (1994-2009), yet may not be aware of my musical involvement with Jim McCarty and Top Topham as dual lead guitarist and singer in the blues band that lead to the reformation of the Yardbirds back in the late 1980s and early 90s.
Top, Jim and I have always had a great musical chemistry and now after 25 years it will be nice to share the stage together with both of them again as well as with Kenny Aaronson and Myke Scavone.
I'm sure it will be a real gas! Look forward to seeing you at the shows!
Peace, John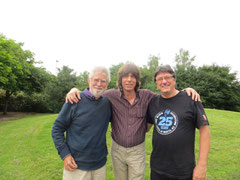 From Ric Lee:
"Our new line-up will have some exciting new names. John Idan (Yardbirds) on guitar/vocals and Gary Fletcher (The Blues Band) on bass/vocals. Had a great start with an exhilarating first rehearsal and we'll be on the road as soon as we can! Attached pic of Ric, John and Bob. More to follow."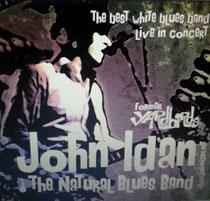 Our great new poster for the Natural Bues Band is out now! Many thanks to Melanie Becker for doing a great job on the design.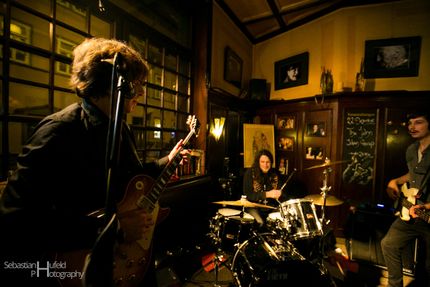 2013 has been a funny but eventful year. It started off with a recording session for my friend Joon Wolfsberg, played a number of kick-ass blues gigs with my friend Top Topham and joined The Yardbirds for the 50th Anniversary Concert in March.
 In the second part of the year I took some time out to write a number of new songs and finally we fishished with the John Idan Group Christmas Party in Eisenach (photo).
 2014 will bring a lot of changes, I hope to finish and release my new Blues EP. As a little new year's goody I will dig out some un-released Yardbirds photographs and stories... so stay tuned!
 Which leaves us now to wish you all the best for 2014, hope you have a good one!
 Peace, John
We are happy to announce that the John Idan Group's annual Christmas Concert will take place at the Schorschl in Eisenach this year. 
We are happy to confirm that John Idan will be joining The Yardbirds for the 50th Anniversary Concert at Twickenham Stadium on March 15th.
2011 was crazy ole year. Although it wasn't the most musically active one for me it still brought forward many interesting things. I'm looking forward to this new year with shows scheduled for myself acoustically, performances with the John Idan Group and also with Top Topham as well. See Gigs Page.

The follow up album to The Folly is in its mixing stages and all things going to plan should be released this year.
A special project came together late last year....Beehive... with my friends Lord Dome, Jim McCarty and Chris Dreja! You can find out more here on the Bands/Projects page and on the Shop page.

There are several new videos on my Youtube channel from the Group, featuring Peter Miles on Drums, Iain Fidler on Keyboards and Fox on the bass. We are looking to do an album together during this year and play very loudly in your living room!
Though The Folly has been out for a good while now reviews still keep coming in, check out the current issue of Good Times (01/12). See Review page...
The website is still under construction and we will be putting more and more information (new and old) on in the next weeks. Stay Tuned and don't forget to check out the John Idan & Group Facebook page!
John is Returning to The Yardbirds for a short Canadian Tour in February:

Though I have finished my last shows with the Yardbirds, I've been asked if I would return for a short tour of Canada in February.
 Of course I'm happy to help them out and we are training a team of Huskies to take us from Saskatoon to Regina.
Thursday 21st August 2008
 For a while now, I've been thinking about how I should progress as a musician and as a person. I've covered great grounds in the last year and also travelled extensively and made huge advances over the last 13.
Being a musician is certainly not the easiest of lives to lead and many things over the years have caused me troubles. You may be wondering what I'm leading up to and I have to sadly say that at the end of this year I will be leaving the Yardbirds.
 I wouldn't say for a second, that being in the Yardbirds has been bad for me, to the contrary it has taken me around the world several times, allowed me to perform on stages that many musicians only dream of, and perform some of the greatest rock music ever done. I'm proud of the band and my involvement has helped keep its legacy going.
 It has been hard since the departure of Gypie Mayo to keep the band in a creative mode, though the fantastic talent of Ben King, his eagerness and consistency, has put the Yardbirds back on top form over the last 3 years. Yet, we are still (excluding our Birdland material) playing songs by the original group and to some degree nostalgically.
 I have been honoured in playing my roles in this ensemble. I have never sounded like Keith Relf, nor ever aspired to, though I hold him in the highest of regards as a performer and musician. I do feel that I have played that role respectfully.
I have found these roles, vocals and bass, restricting, limiting my ability to improvise, as they are fundamental in recreating the group's sound and not to be messed with.
 Also I am not a bass player, though I have been playing bass now for many years and my guitar talents have publicly gone to the wayside. This is something that as a growing musician I cannot allow to continue.
 I have always hoped that the Yardbirds would get the share of acclaim that is due to them. And maybe they have or maybe they haven't. Gaining public notoriety isn't easy to come by these days and quite possibly my own hopes of musical success may be elusive. I won't know until I find out and probably won't stop trying until I'm older than Jim and Chris.
 Of course I wish the band well and would never rule out working with them again on something that was truly worthwhile.
 My main aim now has got to be to put my own music forward. Only time knows what anything will come to.
 John Idan
What next?
 As you can see it's been a very eventful time and no matter what the troubles are, the world keeps turning. Spending is down, oil prices are high and people are watching their pocket books. This of course is not good for the music business and entertainment in general.
The Yardbirds shelved their US tour for this summer and I am looking to promote my solo album and band amongst these quite difficult conditions.
 I'll ask this of you, if you are hip to the music, that I'm creating, and you feel so inclined spread the word around!
I will be doing so with all the vigour that I can summons up. And your help would be appreciated. To say that I don't care about money wouldn't be true, but my main aim is to get this music heard. I think it's pretty good stuff. Of course it's available online as a hard copy and downloads and I feel it would be better to try and get the CD copy of the album through the sources available and if you can't find it there make a suggestion to your local record store.
Downloading it in MP3 form is alright, though of course you're missing the artwork, which is extensive, and the sound quality.
 I'd ask of you as well to not share the MP3 files with anyone that may have other intentions for them. Think of it as making a cassette tape for your best friend, hopefully turning them on to something that they might not have listened to.
 Reckless sharing of digital information and bootlegging are going to stop musicians like myself being able to survive in this world if we are not careful. The world is changing, but fair is fair, good music costs money to produce and every artist should be allowed some space to continue their creating. Thanks for listening.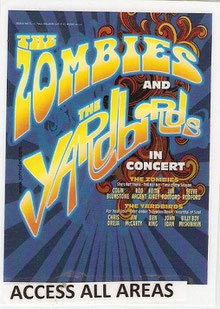 This tour had been talked about since autumn 2007 and was going to happen in the early spring of 2008, but of course started in May and ending at the end of June.
This made time tight when it came to the release of my album for June 2nd and this is why the launch party had to be done on May 7th, a week before the tour started.
 It felt good to be back on proper stages with the Yardbirds. I think we perform best in this kind of environment. Cramped conditions on stage never bring out our best and the sound quality on this tour was fantastic.
 The band played well and by the half way mark we started playing brilliantly. There were a few shows starting around the time of Cambridge where we were peaking to new levels every night. This of course didn't go unnoticed, especially backstage; as the Zombies were due to follow what Terry Reid once described as "World War III"...
 The Zombies are fantastic musicians and really nice people. Their performances were excellent night after night. Colin Blunstone is a true professional and knows, that his reputation as a vocalist is on the line every time he takes that stage.
Rod is a wizard on the keyboards. Jim and Steve Rodford are the glue which held the whole thing together on bass and drums with Keith Airey adding nice touches to the music sound, ranging from subtle chord work to an all out Blackmore-esque onslaught.
 The difference between the two groups is simple, where the Zombies are slick and polished, the Yardbirds are raucous and leave the audience wondering what might come next, as many of the arrangements hinge upon the dynamics that the band creates.
The bands got along well together and a mutual respect certainly was evident. There is talk about us possibly playing together in the future.
 As in every tour there are highs and lows and some crazy Rock 'n' Roll moments:
 A backline of JMI amps including AC 100 bass rig, like the amps the Yardbirds used to play with, blew a valve during "Over Under Sideways Down", causing its own pyrotechnics. The amp was fixed the next day by my dear friend Dave Petersen and though he did what he could the amp failed again two nights later on the first note of the show. It had been alright at sound check, it just wasn't ready for the beginnings of that night's W W III...
The amp finished the tour after seeing the doctor in Doncaster.
 A lot of faces on the tour, Jimmy Page came to the show in Reading and was in good spirits and health.
Jimmy popped his head round the dressing room door whilst I was ironing my shirt. I said "Come in Jimmy" as we shook hands and I said "let me take you through to see Jim and Chris". Jimmy seemed genuinely happy to see his old band mates and spirits were good.
I didn't part take in the photos, but Jimmy said when he left, it was nice to meet again and I wished him well and hoped he enjoyed the show.
He later texted Jim saying congratulations to everyone and that Jim had a good band.
 A funny happening took place at the Northampton motorway services:
We were just about to leave the services when Chris say's: "That bloke in the car next to us looks a lot like Ray Davies", I then looked and said "That is Ray Davies!". I proceeded to open the van door and shouted "Hey Ray!", he heard me, rolled down his window and asked in a North London accent "Who is that then?" of course I said "the Yardbirds" he said "Where are you playing?" I told him and he gave us the thumbs up and we both went off on our merry ways.
It's sad really, that more wasn't made of this moment, as Jim and Chris of course toured with the Kinks and Jim Rodford had also been their bassist for a number of years. Also Ray's birthday was approaching and Jim Rodford had been invited but was unable to attend because of the tour dates.
 We did a show in Brighton at the Dome which was one of those killer shows I spoke about before and afterwards we met up at Jeff Beck's house for a party.
Jeff's a nice guy and likes to include us in his circle of friends. I showed up late, as the road signs haven't been turned right since World War II.
 There were some crazy people at this party and a Rock 'a' Billy band out in the garden. I made my way over to where Jeff was sat with some friends and rapped with him about music, his lovely house and Billy Butler's brilliant guitar playing on Honky Tonk.
 Jeff seemed to be enjoying himself and said, that we would see him in the coming days in Tunbridge Wells. I think he got his wires crossed and wasn't able to attend as we found out, he'd done a charity show that same evening.
 I had mentioned to Jeff that he should come to see the band with Ben on guitar, as I felt that the band is possibly the best it's ever been with Ben's playing.
And hinting, that he should consider joining us in some capacity in the future. We'll see...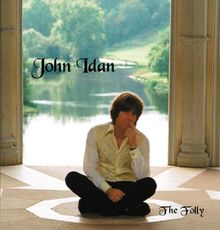 The gig went great, all things considered. We had about 120 people show up and the band played their roles with good energy.
For those of you, who have heard the album, you can understand that some of the music is quite difficult to perform live. Especially as the lads were learning the parts from the album and with limited rehearsal time, I believe they did a sterling job at recreating the mood of the music.
 As for myself, I was pretty uptight. I was worried, that the one rehearsal that the band had together, just wasn't going to be enough and in fact, that is the truth.
But like all good musicians, we let things fly and some things really soared.
The real spanner in the works that day was the fact that the Yardbirds rehearsed well into the afternoon. And though I said I would do the rehearsal and not sing, so as to save my voice for the evening, I sang any old way.
My voice eventually got tired about two thirds of the way through the evening show, but not too bad.
 It was most enjoyable to play and hear these songs of mine come to life on stage. The audience really listened and I think that most of them appreciated what they heard.
 The evening closed off with chat and a drink with friends and guests from the audience and by the end of that day, which was about 3 in the morning, I was totalled, but really pleased with the way things went.
John Idan talks about his new album "The Folly":
 I started writing and recording songs about five years ago. Some songs go back further and I thought it was about time that I put my musical ideas out.
Much of the material is very personal to me and was not really suitable for the Yardbirds.
 I've played all the instruments, more out of ambition than anything else, and viewed it as a challenge. It also meant that I could do things at any time I desired and it's been nice to have that freedom. Now I'm looking forward to performing these songs live with my band and pushing their boundaries further.
 The album is a view of my life and the music that I'm into. I tend to write for the song, meaning I let it become its own thing, whatever genre it may fall into. I love all kinds of music and "The Folly" is just a glimpse of that.